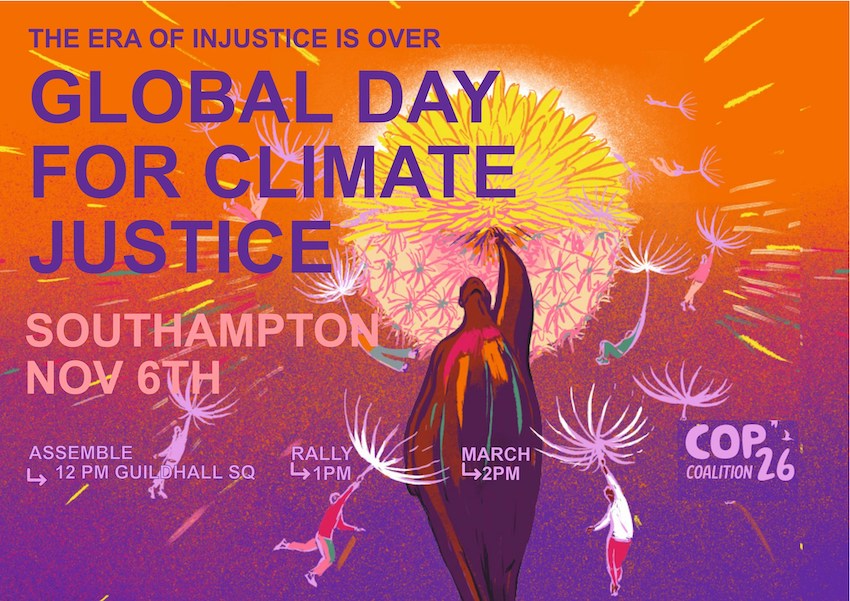 If you're looking to get involved with events around COP26 there's plenty going on around Southampton
Oct 30th: Greenpeace, Deep Water Rising/Clang for Climate,
Nov 6th: Airport event and Ciry Centre Rally and March,
Nov 7th: Hurst Spit & Milford-on-Sea Seafront Vigil,
Nov 13/14th: Greening the City festival.
Saturday 30th October
Deep Water Rising/Clang for Climate event at Cobden Bridge from 5pm to 6.15pm. See Facebook for more details.
Saturday 6th November
10.45am Airport photo opportunity across UK – please contact foesoton@gmail.com for more information.
12.45pm – Samba band – bring a shaker or a pan and wooden spoon to Guildhall Square
1pm – Speakers and Open Mic then activities and stalls
2pm – March – STOP FAILING US
3pm – Speakers
If wet, we timings may be condensed!
Sunday 7th November
Hurst Spit & Milford-on-Sea Seafront Vigil. See Facebook event for more information:
www.facebook.com/events/920848028520000 including cycle ride from railway station
Saturday & Sunday 13th & 14th November
Greening the City festival: www.facebook.com/events/303395711259777