Imagine if, when you wake up tomorrow morning, Southampton is as you would like it to be. What does it look like? How do you feel? What are you doing? What is your life like?
This may sound like an indulgent question in these current times but this is the question Transition Southampton asked its community to ponder, discuss and co-create the answers to back in April 2016. Nearly five years ago and the legacy of the series of three Imagine Southampton workshops continues today. We have been amazed, enthused and inspired by new ideas, activities, events and campaigns that have happened as a consequence of asking this simple question. This has recently been brought to light by the mapping of ideas for the Southampton National Park City project, headed up by Extinction Rebellion. To view the map see here.
We would like to share with you some of the background thinking and creative ideas that went into the Imagine Southampton series of events, in the hope of inspiring you to do something similar in your street, neighbourhood or suburb. To wrap up we will talk about how Imagine Southampton continues to influence our work today
When we look back on our work in 2016 we recognise that we were modelling a different way of doing democracy: we created safe spaces, where everyone could feel heard, where everyone got a chance to speak and where everyone helped to create the agenda. The hardest part for us was to concentrate on providing those conditions for the meetings and not provide an agenda of our own. And the result? A room full of energised, talkative and inspiring people who worked together on the tasks we gave them – they collaborated and co-created a vision of the Southampton their hearts desired.
When we designed the event we had a clear intention of gaining an insight into the work that Transition could usefully do in future to promote what participants could see as the elements of their ideal city. Our work programme was, as a result, designed by all the participants at the events.
As other events and ideas unfolded in the subsequent years we have learned that working with people in this open-hearted way requires that we honour the words, the feelings, the imaginings that people bring – their work is not a set of sentences with which to write a report, they really are imagining their ideal world into being. We have many examples of this we can share, where actions, activities, events, groups, businesses and projects have been born from this way of working.
It is preferable that anyone choosing to run a similar activity has some training. Some of us have trained with Art of Hosting and others have a long history of experiential teaching and learning which we brought to this series of events. The main structure for the first meeting was World Café and there are specific elements to this particular tool – safety, accessibility, active listening, discussion tables, harvesting of ideas using drawing and writing, table hosts and other functions. At the second meeting the material from the first meeting was revisited and participants voted for the most desired ideas. At the third meeting we used Open Space, a specific technique, which gave participants a chance to visualise more clearly their chosen projects. Throughout this process, the two of us leading the events were "holding the space" for the participants – a metaphorical embracing of the space for learning and sharing that is felt by those in the room. We also provided much-needed support to one another. 
The three Imagine Southampton events were the result of dedicated teamwork – development of the programme, advertising it, enrolling participants, food and drink on the night, setting up the venue (especially for World Café), table hosts, audio-visual aids, harvesting and so much more. This teamwork made all the difference to the success of the events.
The results of the participants' work has been written up here, and the most voted-for topics were:
People not cars

Using our water as part of our lives (honour our waterside)
Citizen involvement in the planning/development process (Local Plan)
Community to reclaim ownership of City's vision
There are many threads running from the three Imagine Southampton events in early 2016 through to current work on many issues in the city. Some of these are:
Clean Air Southampton
Breathing Spaces
St Denys Active Travel Zone
Walk the Waterfront
Mayflower development
Southampton City Vision
The work has also influenced our successful application to Transition Bounce Forward for a series of projects in three different neighbourhoods in the city, St Denys, Bitterne Park and one other. We will be using similar principles and widening the reach of the work to co-create imagine events in these locations. We started by saying this approach feels indulgent but actually it feels so necessary at this time of crisis, when we are struggling to visualise a new story for ourselves. Creating the space for communities to share their hopes, dreams and desires and imagine their future into being is needed, now more than ever.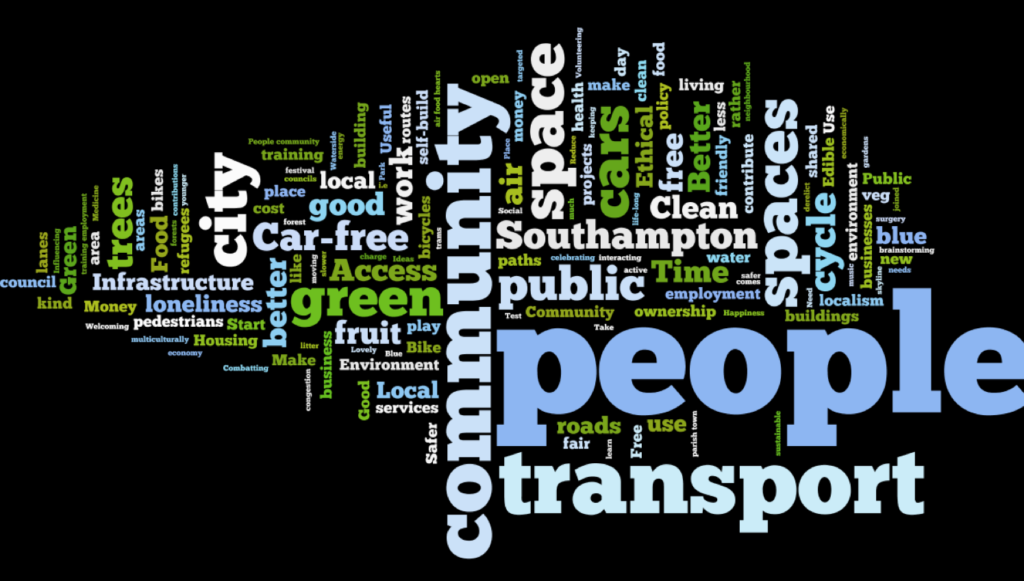 Download the Imagine Southampton Write-up