This project will continue during the current Covid restrictions.
Background
Standard advice for composting is to restrict yourself to prunings and vegetable peelings, avoiding cooked food and especially meat and dairy.
Since meat, dairy and any cooked foods compost really well, the reason for this advice is largely to reduce the bin's attractiveness to rats.
Solutions: Retro-fit Steel Collars and New Slatted Bins
We have trialled two rat-proof composting approaches so that a wider range of materials can be home composted.
The first is a steel collar which goes around the base of a standard 'Dalek' style compost bin. The second is a new slatted bin made of tough uPVC.
In each case the bin must be placed on hard standing (concrete, slabs, bricks, blocks, paviours or Tarmac) to prevent burrowing by rats.
We wished to determine if our two designs were truly rat-proof thereby enabling people to comfortably put a wider range of material into their bins and reduce waste.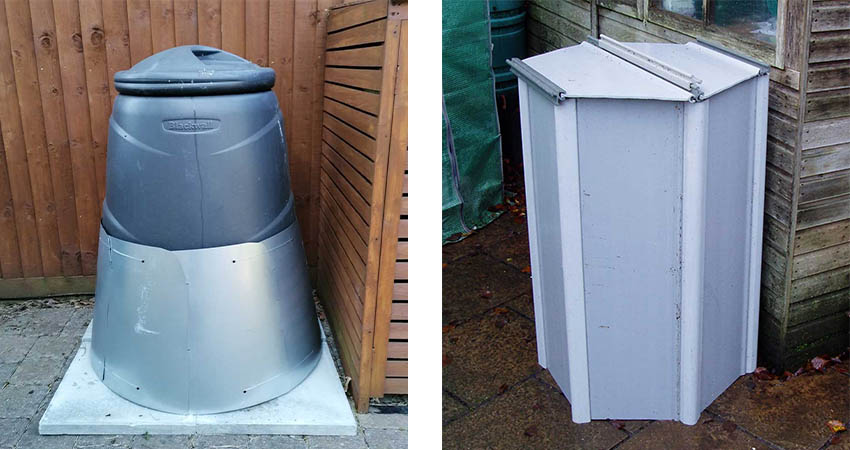 The Results
With over 20 installations – some of which have been in place for nearly two years – the trials have been a success; none of the bins have been invaded by rats.
If you're interested in taking part let us know!
Cost
Both the steel collars and the new slatted bins are manufactured by commercial companies.
Stock is purchased from these companies and subsequently supplied – at cost – to project participants via Transition. We currently have stock for both options.
Current prices, based on existing supplier purchases, are £37 for each collar and £95 for each slatted bin.
How to Participate
The project is no longer in trial mode.
We have proven solutions if you have an existing rat problem. Similarly, if you wish to compost a broader range of materials without subsequently suffering from rats, our solutions will support that change.
We have stock and do not anticipate shortages; supplier lead times have been fairly short.
Contact us using this form if you are interested in participating.
Thank you.