What do you imagine St Denys to be?
What if, when you wake up tomorrow morning, St Denys is all you want it to be? What does this future St Denys feel like? What are you doing with your time? Who are you chatting to? How do you earn a living?
We have already had some of these conversations in St Denys through the Breathing Spaces project where we got together and talked about how we would like our neighbourhood to be, with a focus on air pollution and the impacts on our health. We had some great conversations at the Clean Air Cafe's and we got together in our streets to celebrate.
I imagine 'a community car share scheme', 'creating green walls around St Denys and getting community, schools and youth groups involved', 'more trains stopping at St Denys station' and 'closing North Road to traffic except for residents'

All quotes from local residents at Breathing Spaces Clean Air Cafe
Imagine St Denys expands the questions that were asked during the Breathing Spaces project and aims to capture the collective wisdom and imagination of our local community to build a positive shared vision of our future. We would like to make sure every one who wants to be involved in the conversations can be, so we all have a chance to contribute and to imagine the St Denys we want to live in.
So far we have co-created a local newsletter, the Itchen Sink, which you should have received through your door. We wanted to celebrate all that is happening in St Denys and with the hard work of a small group of local residents (many thanks Deb, Chris and Martin) and funding from this project, our first edition went out at the end of April (next edition likely end of July). We have also been out and about in the Priory Teas milk float, our mobile way to connect. See you again on the 25th July. We have had our first in person get together and have collected some of your thoughts and ideas about resources we have in St Denys and what we would like to see in St Denys in the future. Please sign up to the newsletter to find out more.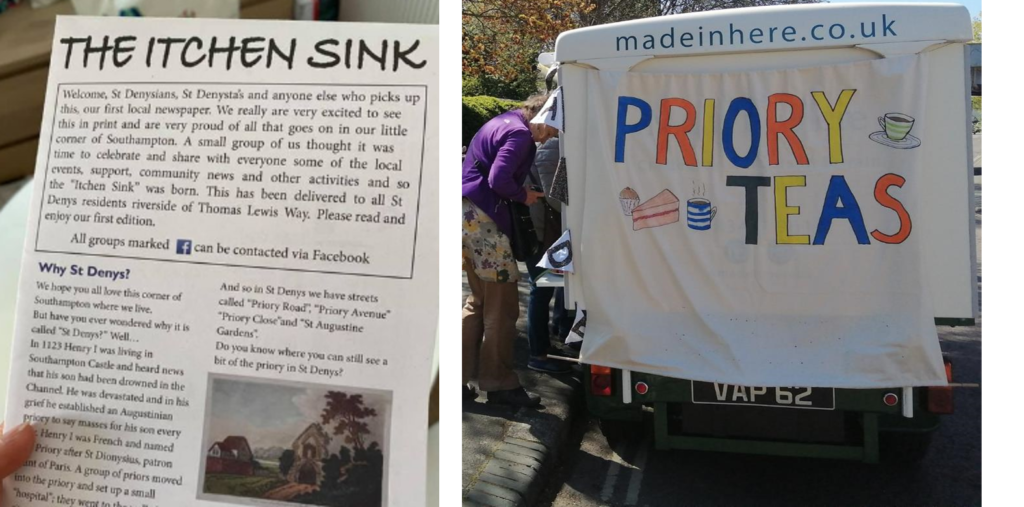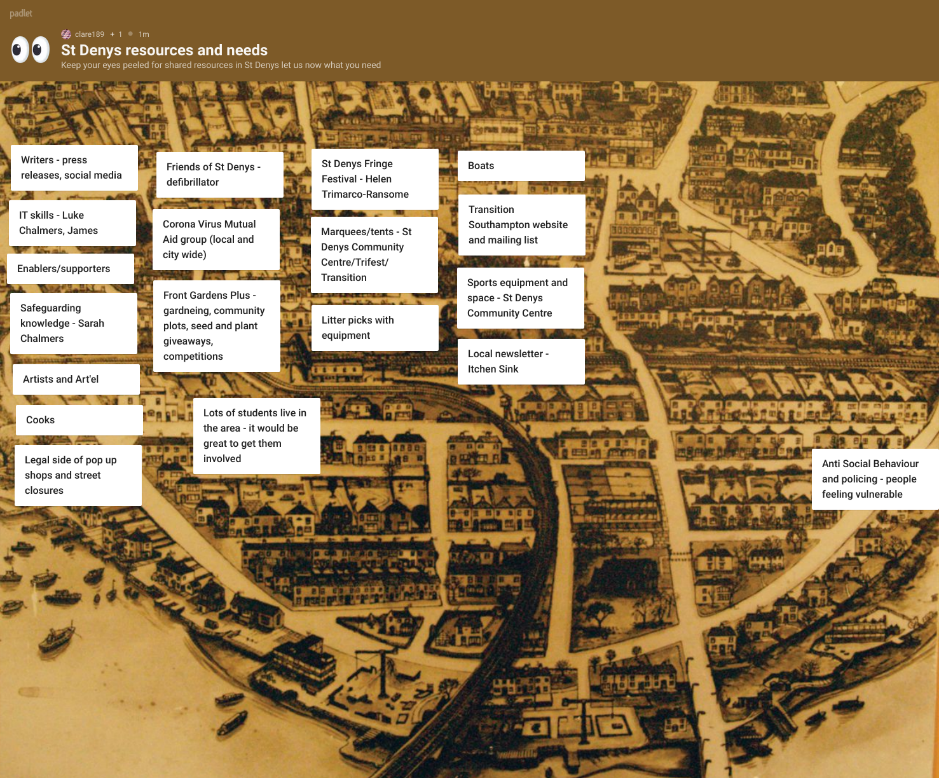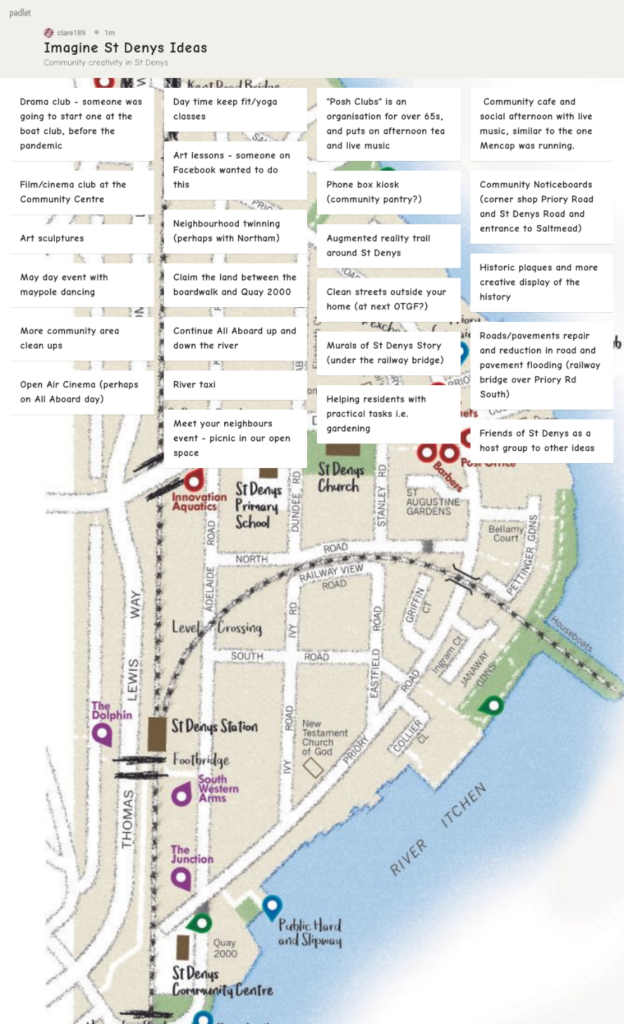 We would love you to get involved in organising and developing this project and we are looking for people who can help with social media and website updates, helpers on the Priory Teas milk float and those with skills in facilitation and community development. If you are interested in what we can do in a more formal capacity, such as a Neighbourhood Plan please do drop us a line at clare(at)transitionsouthampton.org Clare will be working on the project most Mondays and Fridays and so will respond on those days. Newsletter sign up below.
Local project listings
There are already some amazing projects in St Denys that have helped to create a sense of community and connection and we would like to use this page as a resource and signpost for local projects in the area. The projects are listed below. We know we haven't captured them all so if you have a project you would like to share do please let us know.
If you would like to connect with a local project please follow the links and use the contact details provided rather than contacting us. Any thing else do drop Clare a line clare(at)transitionsouthampton.org
We are currently looking for volunteers to join us
If you're interested in getting involved with this project, please contact us here. We need a mix of people from across the community from idea creators, thinkers, writers, organisers, facilitators, project managers, networkers, story tellers, artists, and social media whizzes. There's no expectation in terms of time commitment, just give what you can, it's amazing the impact an hour here and there can have.
Frequently Asked Questions
Is this an environmental/green project?
No! It's a community project that aims to facilitate conversations and needs participants from all parts of the community with different beliefs and interests. The community will decide the directions it takes and the themes that emerge.
Why St Denys?
Mainly because there were a couple of St Denys residents who took part in the Transition Bounce Forward series and applied for the funding. Imagine St Denys is part of the wider Southampton Growing Places project, engaging communities and neighbourhoods in Bitterne Park and Northam and we hope more widely in the city.
Who is behind this project?
Transition Southampton members.
Who is paying for this project?
We have a small amount of funding from The National Lottery Community Fund (distributed by the Transition Network via their Transition: Bounce Forward initiative). There are 112 other projects around the country that have also been awarded funding. We also have funds from The Southampton Collective who ran the Breathing Spaces project in St Denys.
How long will the project run for?
The project will conclude in September. What happens after that? No-one knows… imagine what's possible…
This project is part of Transition Southampton Growing Places
Imagine St Denys is part of the Transition Southampton Growing Places project that consists of 4 sub-projects: Imagine Bitterne Park, Bitterne Park Growing Places, Imagine St Denys and a soon-to-be-announced project in one other neighbourhood.
Building on Imagine Southampton and Breathing Spaces
This project builds off of the work done in 2016 as part of Imagine Southampton. Imagine Southampton was a community led event organised by Transition Southampton that sparked and inspired multiple ideas and projects around Southampton. The Imagine St Denys project also builds on the work of the Breathing Spaces project, which ran in 2019 and 2020, a community project with clean air, liveable streets and increased health & wellbeing at its heart.
Inspired by Rob Hopkins and Transition Bounce Forward
Imagine Bitterne Park is inspired by the imaginative and inspirational book by Rob Hopkins, From What Is to What If (copies available from October Books) and The Transition Bounce Forward project provided further impetus (not to mention some funding!).
Thank you to our supporters
Some of funding for this project comes from The National Lottery Community Fund and is distributed by the Transition Network via their Transition: Bounce Forward initiative. The Southampton Collective, a local community interest company has also contributed funds.