As we approach the possibility of re-opening our repair cafes after lockdown, we thought it would be interesting to look back over our history.

The repair cafe movement started in the Netherlands in 2009. Our own Southampton cafe began in 2013 after two of our members paid a visit to the successful Malvern Repair Cafe. The idea of the repair cafe is a simple one: fix things that would otherwise be thrown away! This has benefits on so many levels – reducing waste, reducing the use of new resources, saving money, bringing back into use some much-loved though not necessarily valuable item, teaching people how to do repairs, supporting the concept of repair generally and bringing people together. That is why we ask people to sit with the repairer while their item is worked on, not drop it off and come back later as you would with a shop. Our aim is to encourage the concept of repair, not take business away from actual repair shops. So we try to limit repair times to 20 minutes (although this isn't always possible!) and keep a list of the city's repair shops to refer people to where appropriate. Often we work on items that a shop would say are too costly to fix compared with the price of buying new.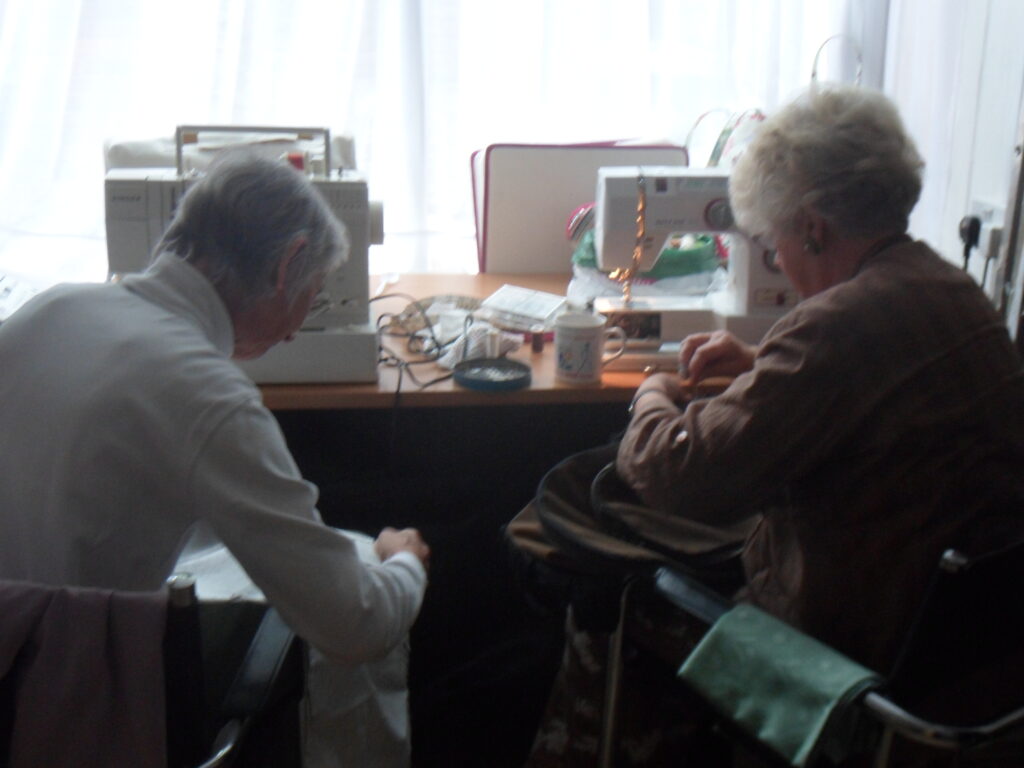 We had a couple of enjoyable trial events held in the back room of SOS Hardware stores in Bitterne Park Triangle, but it was clear a bigger venue was needed. Finding an organisation with a suitable building willing to host us proved surprisingly difficult, but Freemantle United Reformed Church stepped up to welcome us. We launched at their church hall with a practice event in August 2014 for Transition members only
This was followed with an official launch in October, with the Mayor of Southampton and a broken Dalek from SoMakeIt in attendance! From the very beginning we ran on the first Saturday of each month except for a well-earned break each January. We had been running our 'bike2basics' bike repair service for some years by then, so their team joined us at the repair cafe.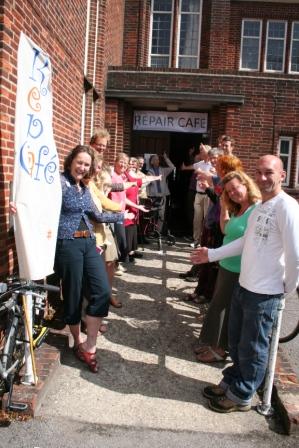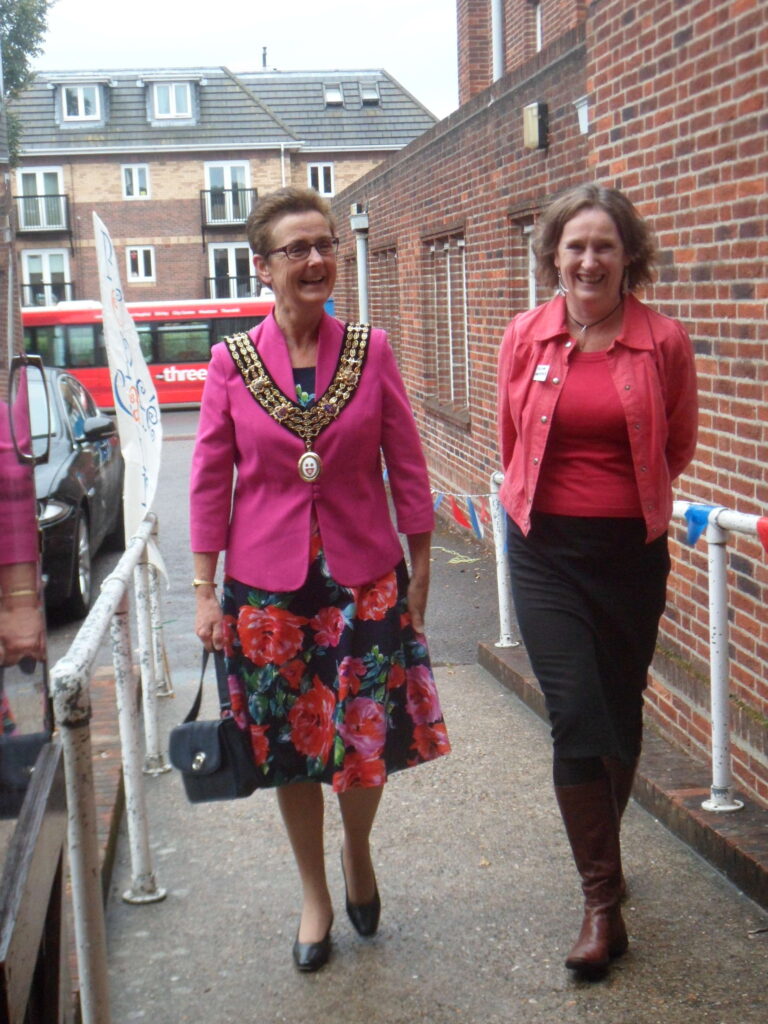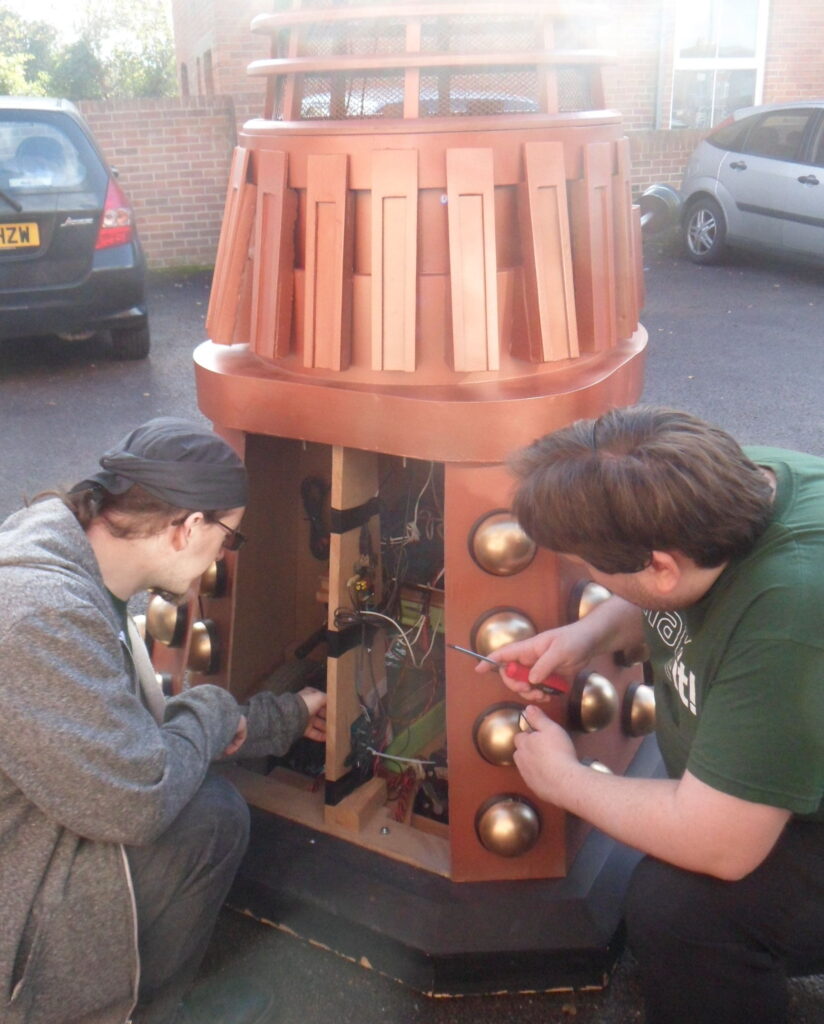 We needed funds to cover insurance, hall hire and volunteer expenses, but were fortunate to be sustained by a grant from the city council's Community Chest fund which covered us until customers increased and donations started to match our costs. Freemantle URC supported us with a reduced hall hire fee, and also organised the teas, coffees and delicious home made cakes.
The repair cafe launched with around twelve volunteers, but by the end of the first two years this had increased, mainly by word of mouth, to over twenty, and is now many more than that. Customer numbers increased over the same period. We held a few of our regular events at other venues, in Winchester, Cobbett Rd Library and Shirley Warren Action Church, but we always returned to our "home" in Freemantle URC church hall. We also held a few popup mini cafes in smaller venues around the city, often featuring a single repair type, generally as electrical or sewing repairs.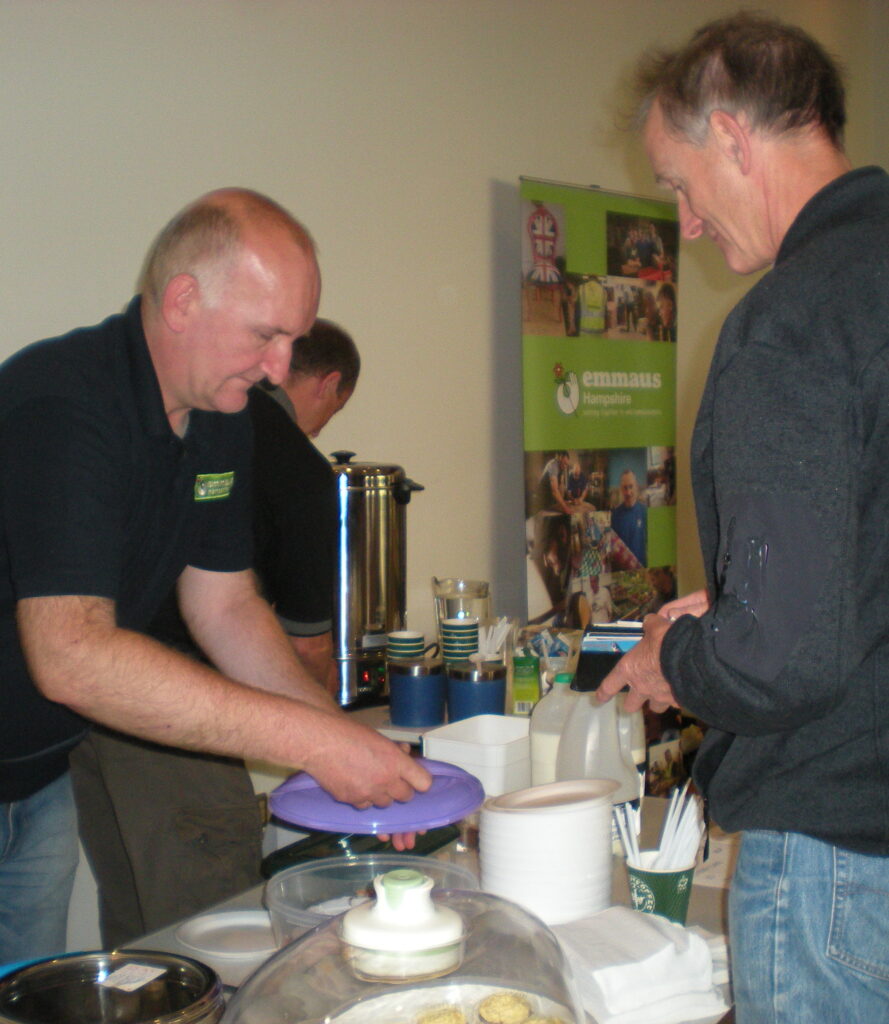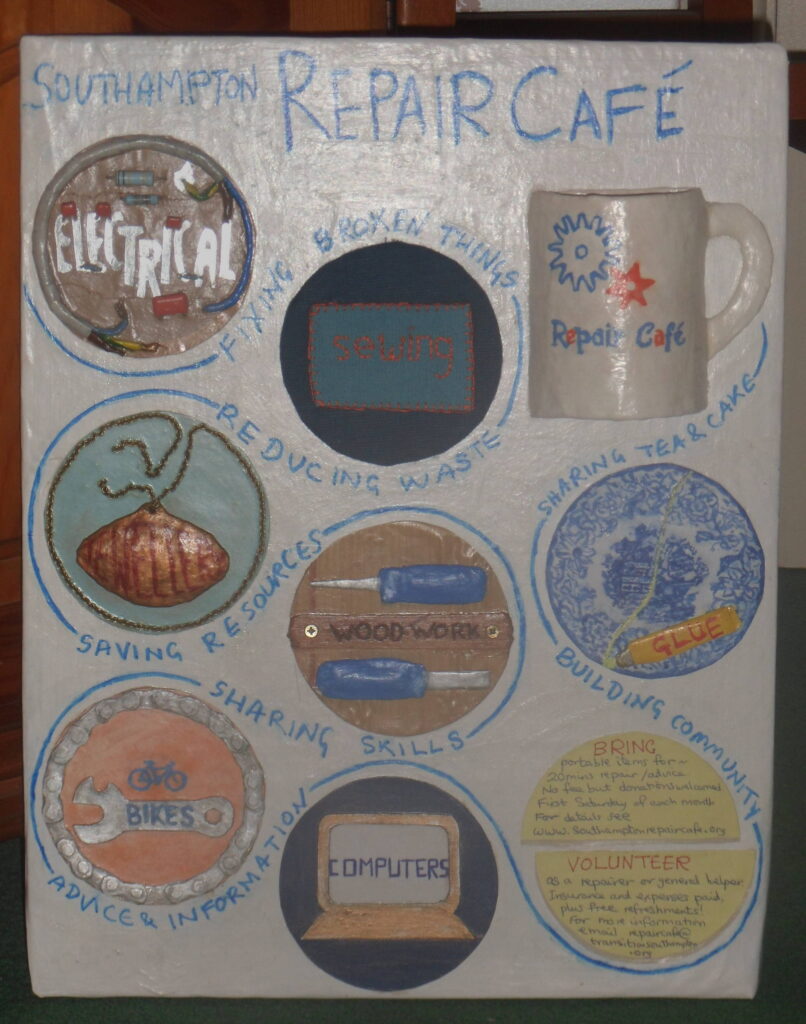 From the beginning, electrical repairs were the most popular, followed by sewing and bikes, then jewellery and computers. Occasionally visitors bring items for mechanical repair, carpentry or glueing. On one memorable occasion two independent visitors brought identical wooden tables with identical faults – the second person was amazed at how knowledgeable we were!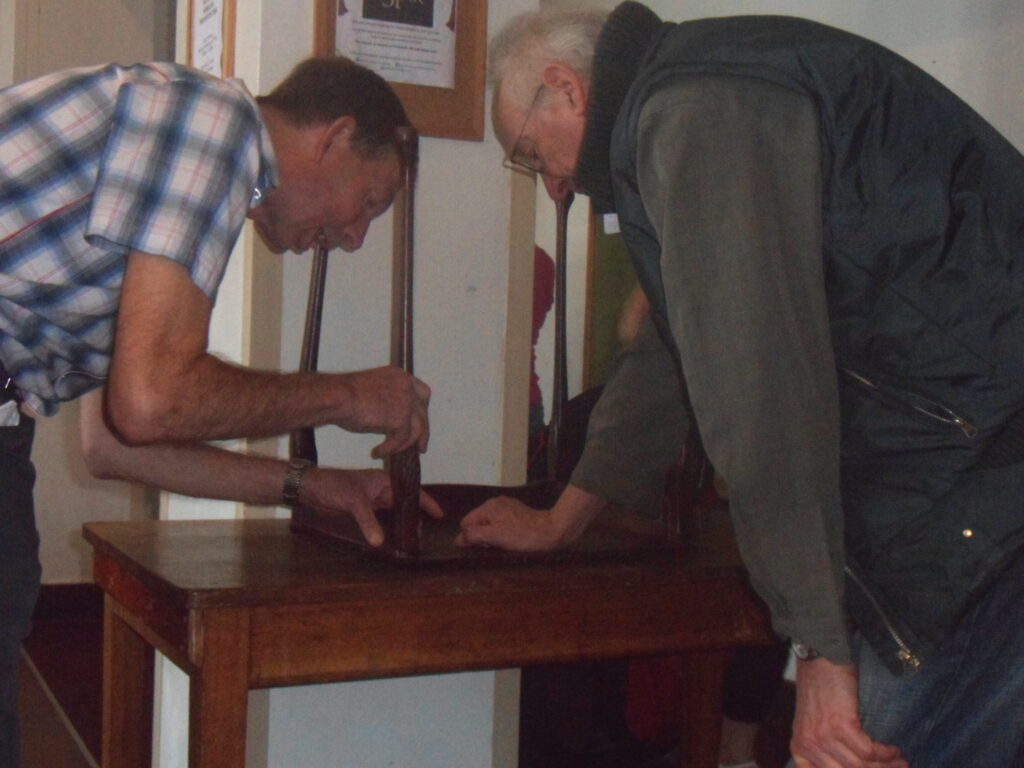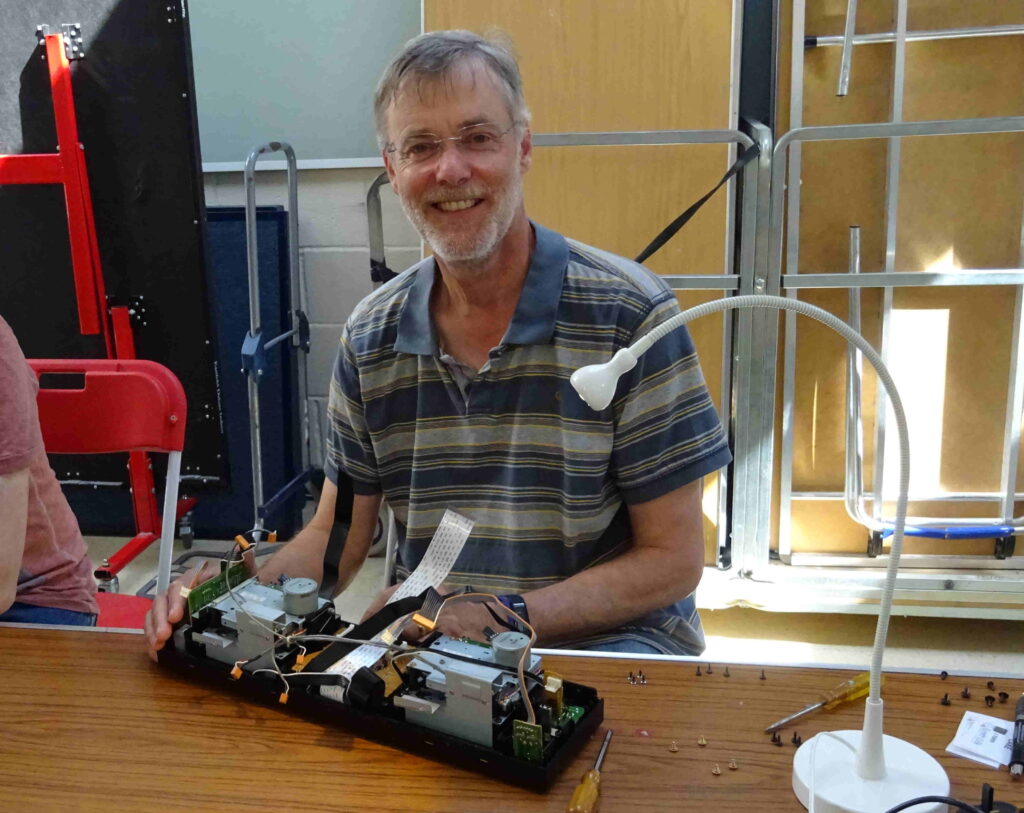 Without our repairers, the repair cafe would be an empty shell. A survey conducted by a University student in 2018 investigated the reasons they volunteer. Most just love sharing their skills and helping people. They are also keen to learn from each other, and an unusual repair might draw a crowd of repairers. Our bike repairers began working outside – finding this a wonderful way to advertise our services to passers-by. We soon learned how amazingly versatile our repairers are. However odd the task, there is usually someone able to help. The only exceptions are watch and clock repair, which are generally too specialised (although we can replace batteries), and microwave ovens, which can be dangerous to open up. Our success rate with electricals is lower than we'd like, because often manufacturers make repair impossible. Even opening up a device can require a special tool – though some of our repairers have made their own gadgets to get around this. We have joined repair cafes across the globe in the campaign for a "right to repair".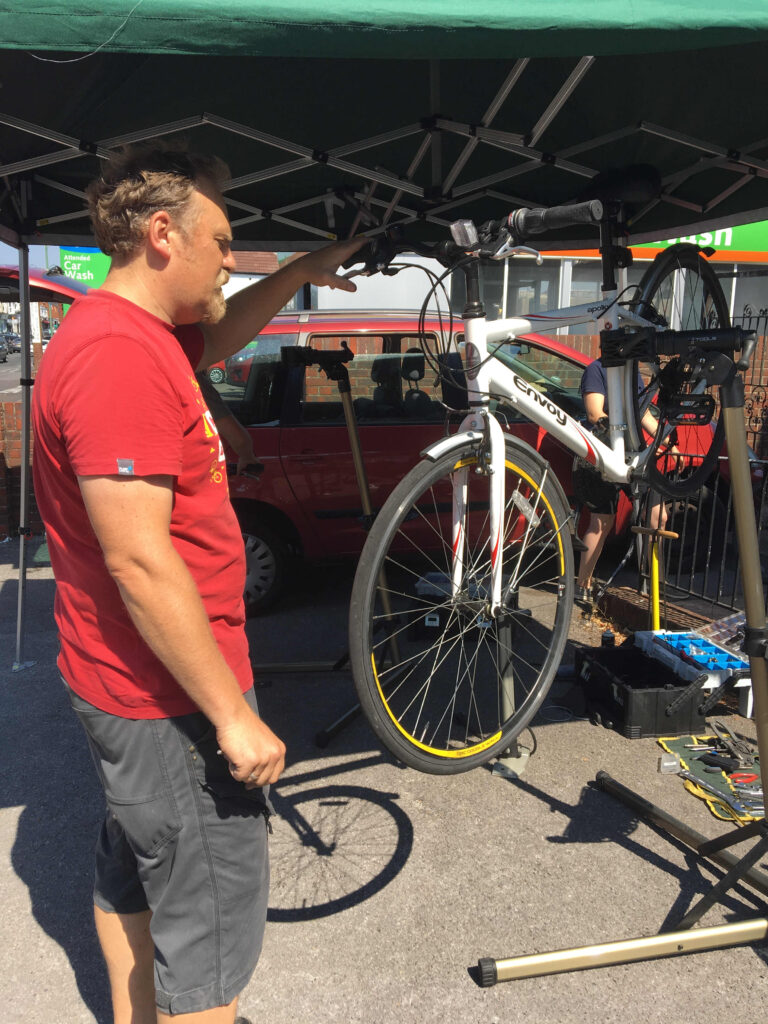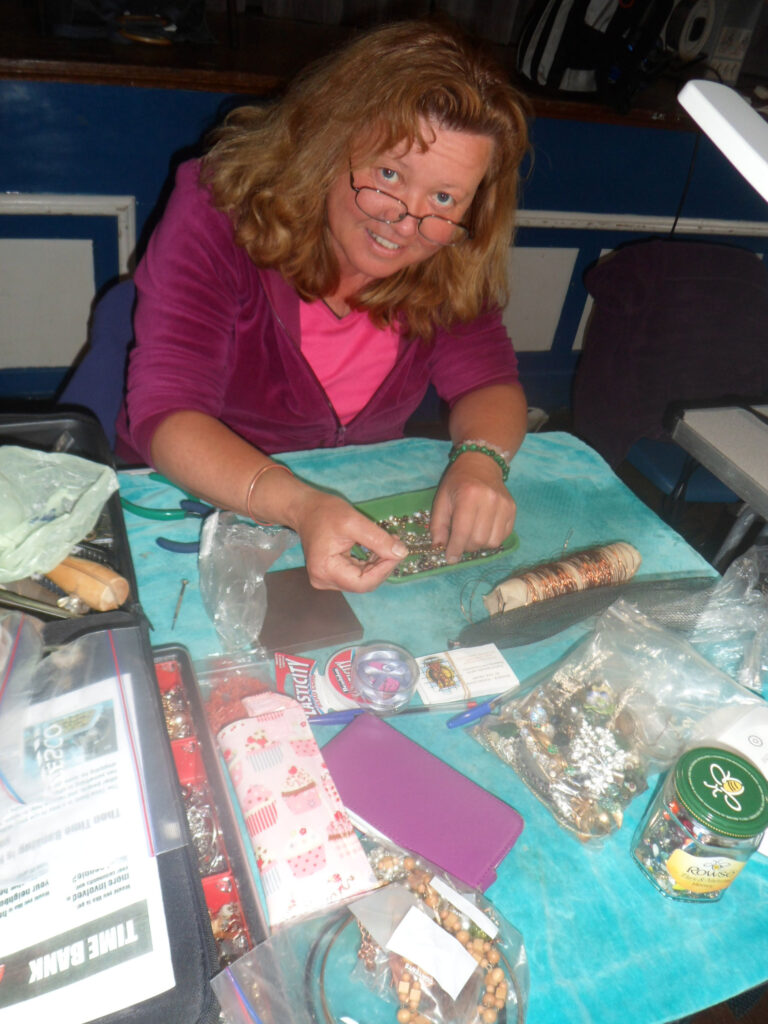 In 2018 a visitor to our stall at the Southampton Seedswap asked "why isn't there a repair cafe in St Denys" and promptly offered to organise one! The St Denys cafe launched later that year, running on the third Saturday of alternate months. From the start, St Denys covered its costs and has at least as many customers as Freemantle, showing there a huge demand for our services including from people who find it too difficult to get to Freemantle.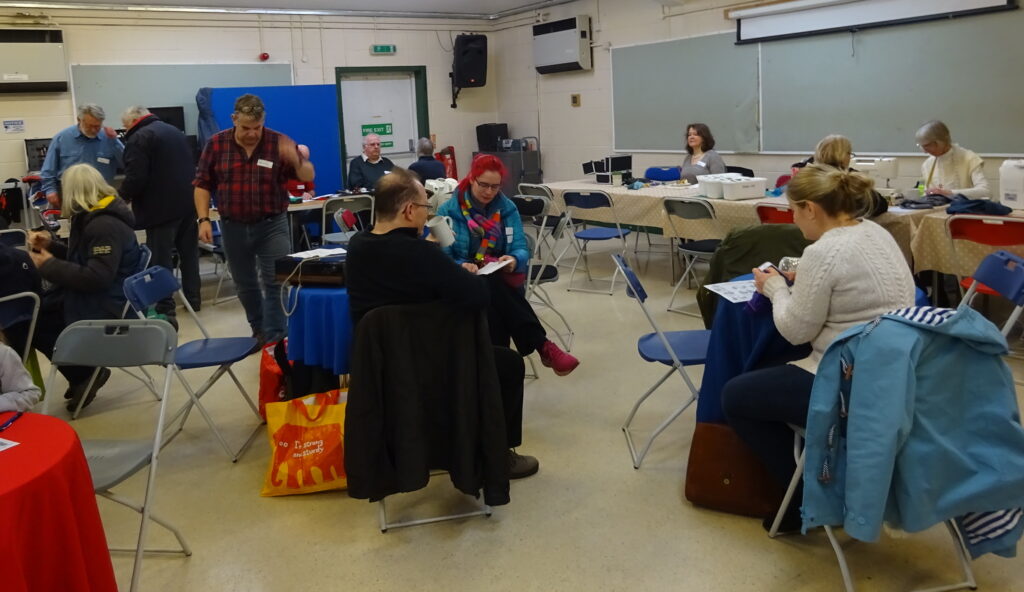 2018 also saw us clock up our 1000th repair, a hedge trimmer whose cable had been cut. The repairer not only rewired the (now slightly shorter!) cable but also offered a tip for preventing the problem recurring – slide the first couple of feet of the cable into a sliced-open piece of hosepipe.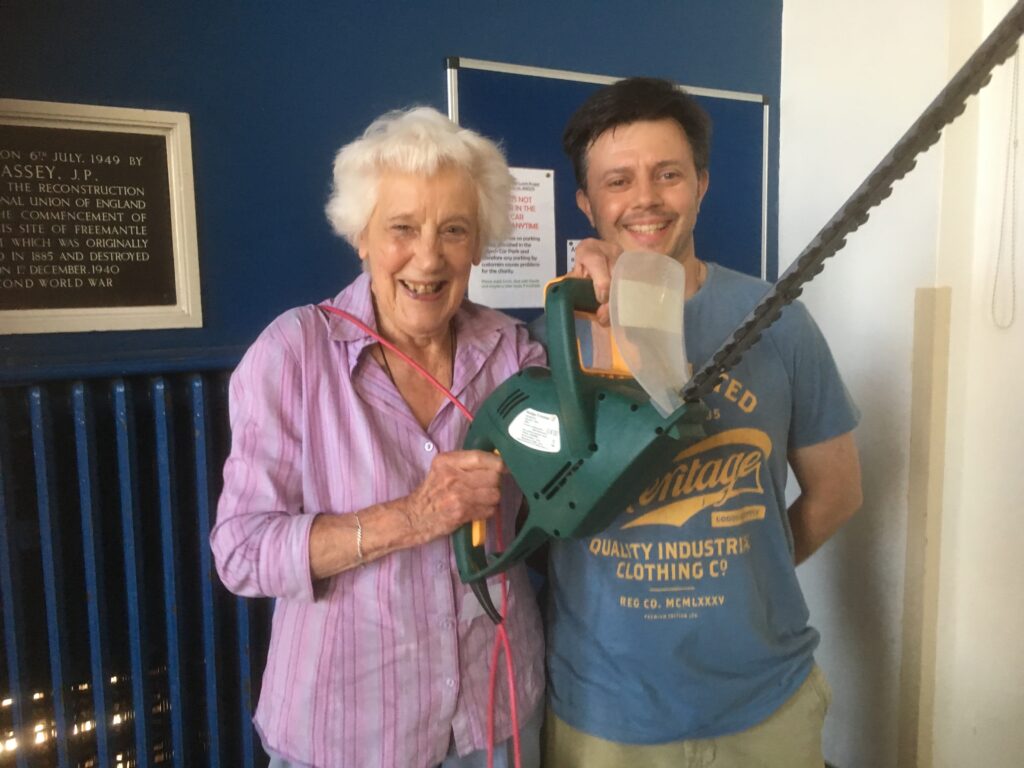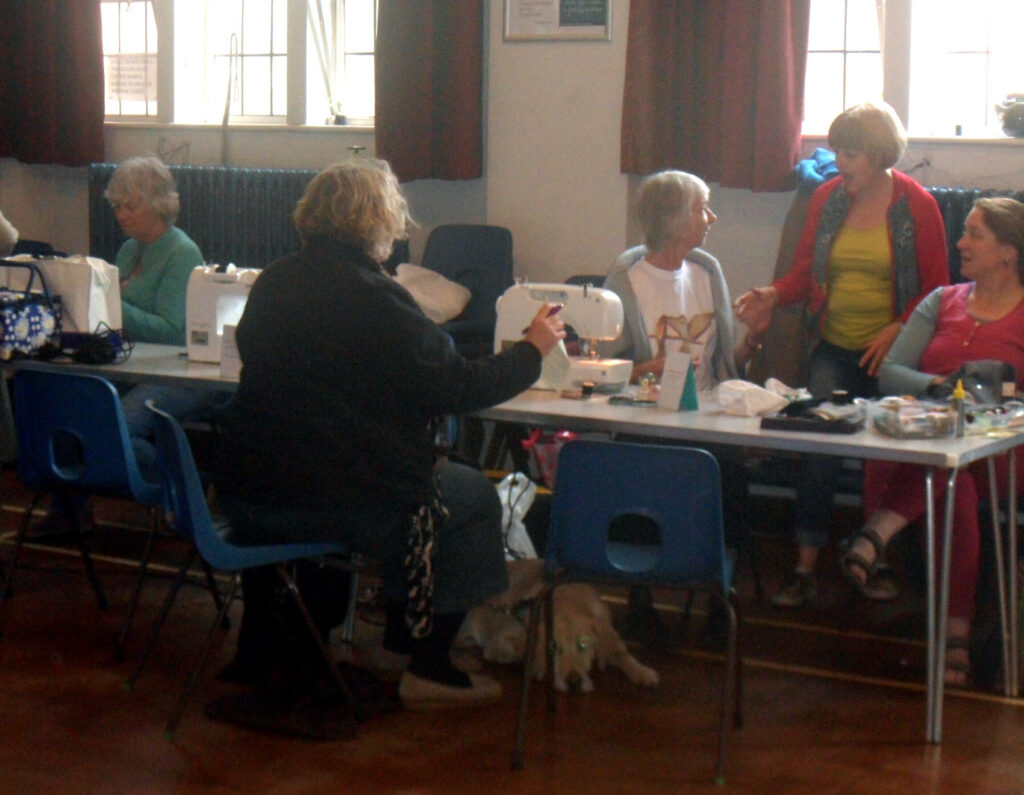 In 2019 we ran an extra repair cafe in Townhill Park using a grant kindly provided by the Church of the Immaculate Conception, Portswood. There is surely scope for a regular cafe in this part of the city.
Our biggest change (prior to the pandemic!) was the sad closure of Freemantle URC in 2019, but we were lucky enough to find a new home at Freemantle Baptist Church. This is rather off the beaten track – though within easy reach of Millbrook rail station – but it seemed an area where there would be plenty of demand for our services. Volunteers from the church kindly delivered leaflets in the area to advertise our opening, and indeed we did not lack for customers when we launched in our new venue. Church volunteers also ably organise the refreshments.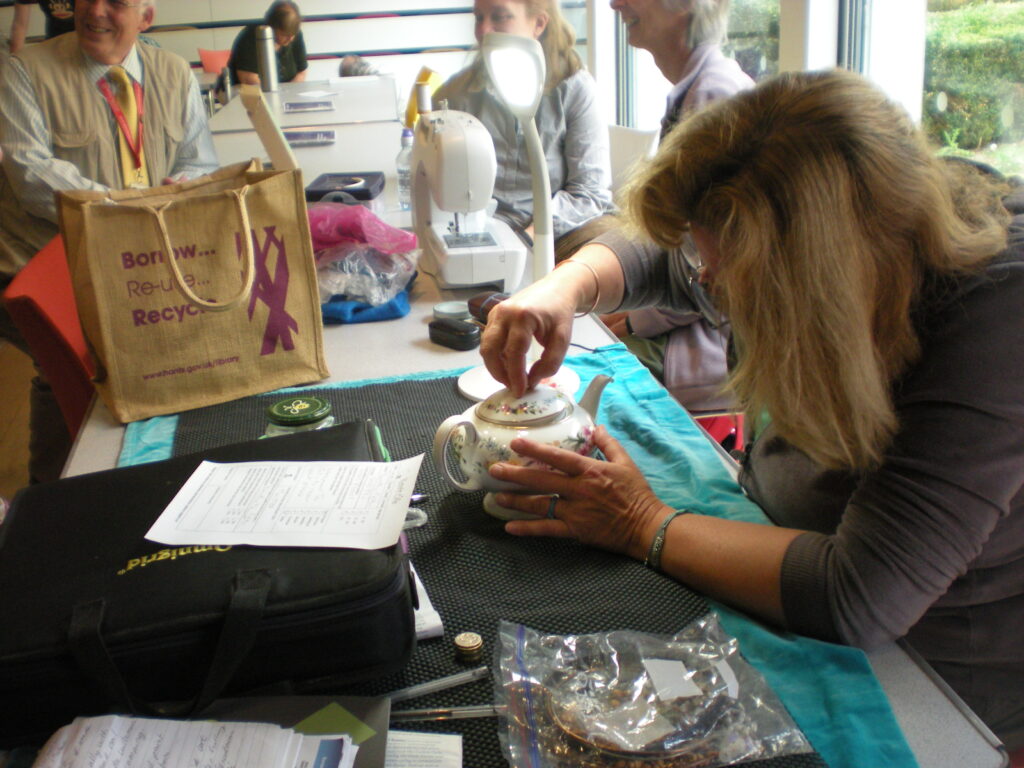 Managing a repair cafe is busy work but enjoyable. There is a real buzz every time. So many people have passed through our doors, most of them passing back out again very happy even if we have been unable to fix their item. Often all they need is advice. Having someone take the time and trouble to disassemble an item to identify the fault is most appreciated. Sometimes managing the flow of visitors is tricky. Customers who have been before sometimes try to 'cheat' the system by going directly to their chosen repairer and have to be gently steered back into the queue. Then again, some customers offer to pay us back by becoming volunteers themselves. Not every helper needs repair skills – we welcome people to manage the reception desk, match customers to repairers, handle the paperwork, and do the advertising. Anyone with people skills or tech skills is welcome!
We try to celebrate our anniversaries with Birthday cake and a meal or entertainment for volunteers.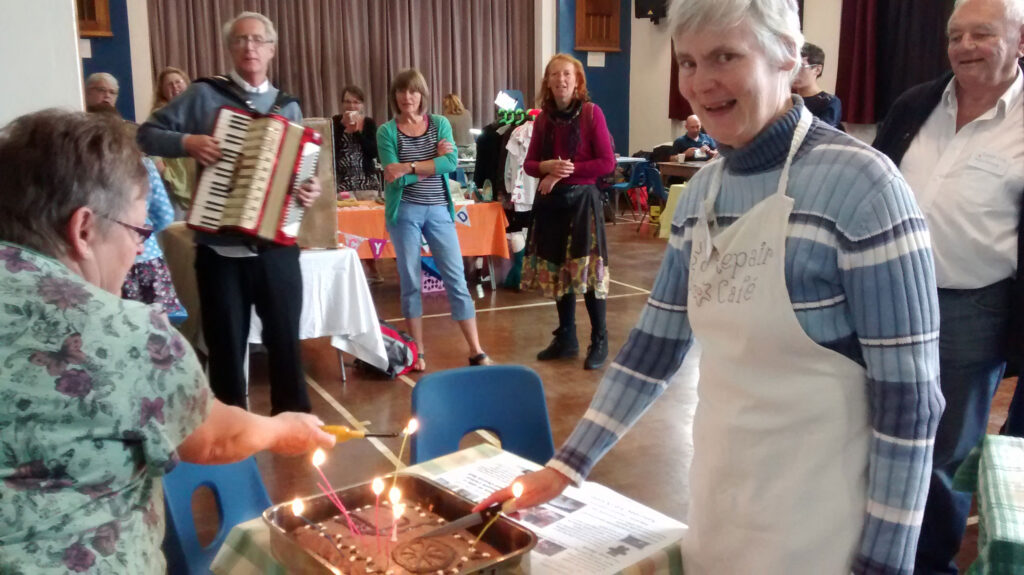 Then covid-19 hit, and our last repair cafe was at the beginning of March 2020. By then we had carried out well over 2178 repairs with a 75% success rate (including those people given advice only). Over 1000 of these items were electrical, 400 sewing, 200 each jewellery and bikes, 100 computers and 200 "other".
We have not been completely idle during lockdown, however. A trickle of requests for help came in, and we can sometimes match potential customers with repairers willing to help. We tried a virtual "repair seminar" where repairers shared tips on machine sewing, shortening a hem, safe electrical repairs and the glueing of trainer soles. Numbers were low but all those who attended enjoyed it and learned something. Some of our repairers are also involved with Totton repair cafe, which managed to hold a couple of socially-distanced events during summer 2020.
Later in the the year Cycling UK offered us funding for outdoor bike doctor sessions. We bought new parts, tools, PPE and sanitiser, and our bike guys swung into action with a series of well-attended events at St Denys. These only ceased with the November lockdown, and we are looking to restart in June.

One of our repairers has now started up a "drop off and collect" service, mainly for electrical items (email bassettrepairshop[at]gmail.com or tel 07783 667 536).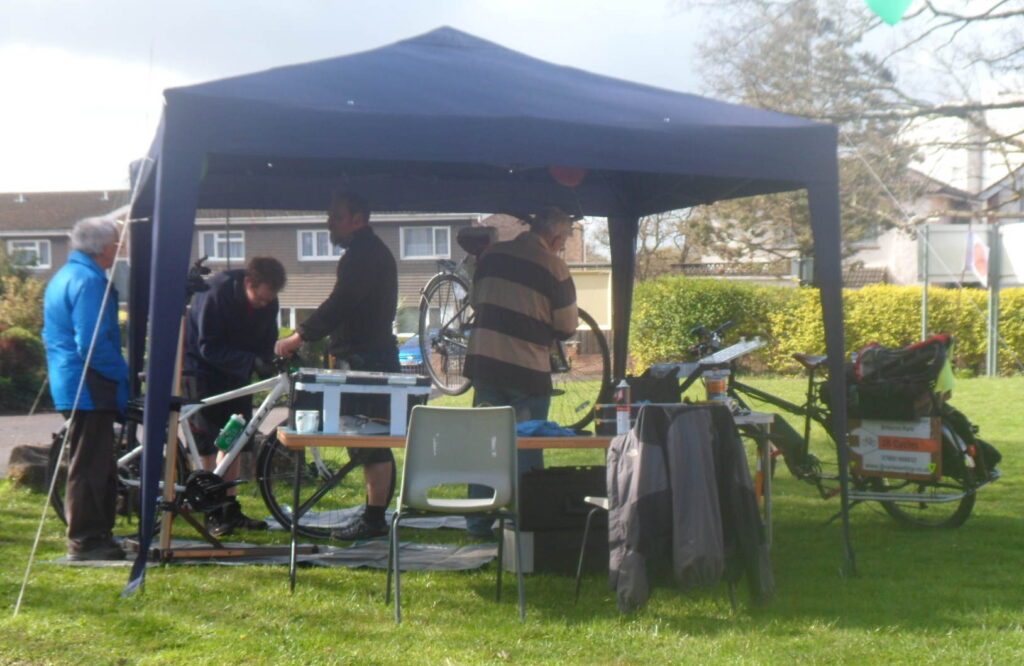 So where are we now?
I'm sure our repairers are ready and willing to start work again. But we do need more help. For over 5 years a single volunteer has been responsible for co-ordinating our whole repair cafe project while simultaneously running the monthly Freemantle cafe. This is unsustainable, and before we can reopen she needs assistance, preferably from someone more local to Freemantle who can help organise the cafe there. We have had some interest in starting additional events at new venues when lockdown lifts, but once again that will be dependent on sufficient 'backroom' volunteers to support the repairers. If you value repair cafe and would like to see it thrive in the post-lockdown world, please get in touch. We are even wondering whether we need to offer payment to someone to carry out the essential but unexciting administrative tasks that lie behind each successful cafe. Please get in touch if that might be you! repaircafe[at]transitionsouthampton.org
Certainly there is enough demand to run a repair cafe every week across different venues in a city the size of Southampton. All it needs are people to help us make it a reality.